September 13, 2017
Revisiting the SharePoint Announcements Web Part
I have recently been working to undo some of the over-governance in how my organization deals with SharePoint and one of the ways I am doing so is in further customizing teamsites. As part of this, I needed to revisit the SharePoint Announcements Web Part.
At some point, a decision was made to apply some sort of third party scrolling announcement web part. I'm not sure why this decision was made…maybe in an attempt to save space, but it looks like it is straight off of one of my pages from the 1990s when I was learning HTML. I wanted to put the stock Announcements web part back on my teamsite landing page; I assumed this would be easy. Now I'm kicking myself for how long it took me to get the web part looking like I wanted.
Beyond just showing a list of announcements, I wanted it to show the title, body summary, and no expired items. I had done this before and knew what it should look like. So let's start!
Adding the Web Part should be easy for anybody reading this – edit the page and drop it where you want it. It comes out looking like this

Great – I've added the web part, but I don't want a list view. Of course – I know SharePoint – I just need to change the view for the web part to Summary View!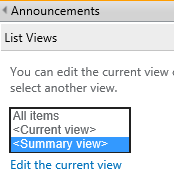 Easy, right? When I apply my changes, though, the content reads TypeError: Unable to get property 'GroupField' of undefined or null reference

All I can think of is PC Load Letter! (Office Space reference)  I'm pulling my hair out, looking at other sites where this works fine, removing and re-adding the web part, trying custom views, you name it. In frustration I chose Summary View again and just clicked OK.

Viola! The announcement shows just as I expected.
I hope my frustration helps somebody out!