April 1, 2018
Copy SharePoint Custom Pages – Why is it so hard!
I have recently been creating a new out of the box solution in SharePoint 2013 On-Prem making use of a large collection of pages. I'm very happy with the design, and they have been set up to need minimal customization after initial creation; however, the process of copying my template page to its final location proved challenging. Copying SharePoint custom pages (using standard page designs) is way too hard!
Scenario
My page is not complicated – it is a basic web part page including:
Content editor web part
A script editor (to show an interactive, zoomable and pannable Visio SVG)
Document library view
List view
Page field filter web part to filter the List and Document library
The kicker is that I need to make 100+ copies of this page each with a unique name that will then be sent offshore minimal customization.
Problem
To copy the template to a new library and then rename I thought I'd use the out of the box (OOtB) copy, but I was getting nowhere with that – every time I copied the page it would lose its layout and all of the web parts it contained. Next, I tried using our 3rd party Copy/Move tool from SharePoint Products.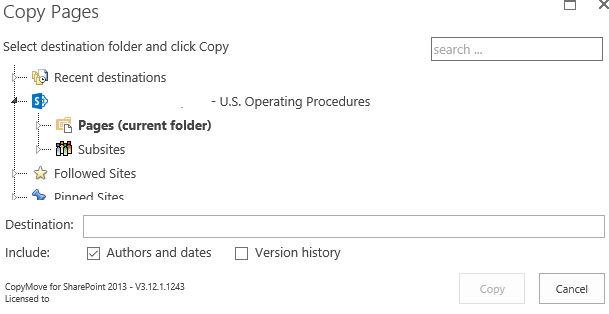 (unpaid promotion – this is really a great product and helps our end users tremendously. Support is great and it's a snap to use. Check it out at SharePoint Products)
Unfortunately, this method proved troublesome as well – while all of the content and web parts copied over from my template page to the new location, the filters that I had set up to control the document library view and list view were lost. Even after editing the page and web part connections I was not satisfied with the results.
Solution
While splitting my time with another project I had been building workflows to create a copy of list items from one site to another. Why couldn't I use the same concepts to help copy a page from one location to another…and why couldn't I take care of some of the editing I'd have to do afterward?
¡BINGO! That's it. Our organization had just won a global award for innovative use of the workflow platform so let's innovate! Nintex to the rescue!
This ended up being very simple and was going to work better than any of my previous plans anyway. So…
Collect some info on the start form – in my case I needed an owner, a page title, the page name, and the value I use in my Page filter. Simple
Copy the page to its new home
Update the metadata on the file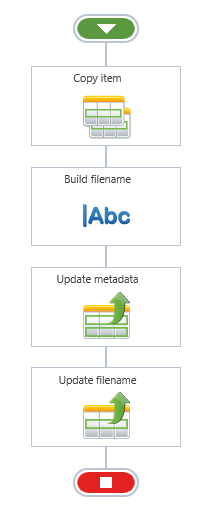 Easy peasy. Happy SharePointing!