November 6, 2014
People Search & Managed Metadata in SharePoint 2013
When you first set up your shiny new SharePoint 2013 you probably set up the managed metadata service. When you finally got around to look at it and configure some of it you may have noticed that you got a term set called People…you then probably got really excited when you realized that combined with User Profile Sync to AD you were all set for People Search with refiners and all. (Well, at least I got excited). Any way this automagical amazingness of convenience was fantastic…I open the Department term set and what do you know – all of my departments from AD are there. I open the Job Title term set and all of the assigned Job Titles in AD were there. Then…yes, you guessed it…I went to look at Location and it is empty never to feel the love of auto-fill.
The user property of Office is what I really want here. It is mapped to physicalDeliveryOfficeName on an import basis only. The content is coming in as expected as it is displayed on my user profile pages. Unfortunately, the existing user profile property Office cannot be configured for use with a term set.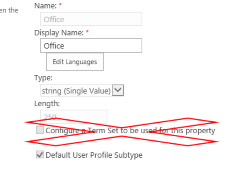 The solution here ended up being rather simple – set up a new custom property. To do so, from Central Administrator:
Manage service applications >> User profile service >> Manage user properties
Click on New Property
Give the property a name and definition (I chose Office Locale)
Check the box to Configure a Term Set
Select the Location Term Set
5.  Create your Synchronization mapping and click OK. The AD property is physicalDeliveryOfficeName

GREAT SUCCESS!
Once you've completed this you should see all of the terms populated in your Term Set. Because you've set up this property as a managed property you can now use it as a refiner on a custom display template for People Search in addition to mapping any other custom columns in your farm to your Office Locations
About The Author
Breaker119